Description
ALL CANCELS WILL RESULT IN A 20% CANCELLATION FEE.
weBoost Drive X OTR Fleet sets a new standard for multi-user, in-vehicle cell signal boosters; optimizing its performance in delivery vans, utility trucks, and all other fleet Vehicle Classes.
Paired with our top-performing OTR Truck edition antenna (with 3-way mount and hardware for various install options) it helps keep drivers in contact with dispatch and fleet managers whether traveling on city highways and interstates or rural routes in remote locations.  
Drive X OTR Fleet works on all U.S. carriers to improve in-vehicle cellular connectivity and is compatible with all phones and cellular devices as it simultaneously supports multiple users.
5G Ready - weBoost boosters will work for the next decade and beyond.
IN THE BOX:
Drive X Booster
304415 - 17" OTR Antenna Truck Edition
314401 - Slim Low-Profile Antenna
851111 - Hardwire Power Supply
(2) Mast Extensions
Coax Cable Side-Exit Adapter
Antenna Spring
Cable Adapter
Thread Lock Packets
HOW IT WORKS:
1
The outside antenna pulls in a cell signal from the closest tower.
2
The booster amplifies the signal received by the outside antenna.
3
Inside antenna distributes this new signal throughout the vehicle.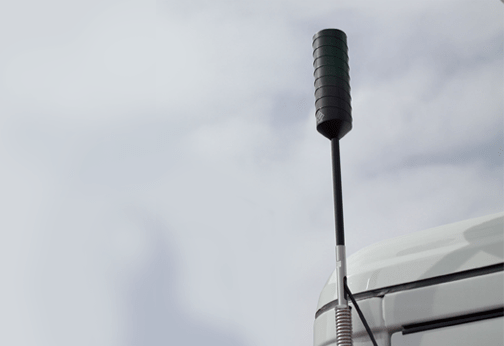 A booster doesn't create a cell signal. It picks up the outside cell signal (no matter how weak) and amplifies it inside a vehicle for better talk, text, and data. 
The improvement of any cell signal depends on how far away the booster is from the nearest cell tower. With this in mind, see how much Drive X OTR Fleet can improve cell-connected devices' performance.

| If the distance to the cell tower is: | | Your boosted cell signal will provide: |
| --- | --- | --- |
| Short | → | Better Talk/Text/Data |
| Medium | → | Good Talk/Text/Data |
| Long | → | Some Talk/Text/Data |
| Out of Range | → | None |

BEFORE USE, you MUST REGISTER THIS DEVICE with your wireless provider and have your provider's consent. Most wireless providers consent to the use of signal boosters. Some providers may not consent to the use of this device on their network. If you are unsure, contact your provider. You MUST operate this device with approved antennas and cables as specified by the manufacturer. Antennas MUST be installed at least 20 cm (8 inches) from any person. You MUST cease operating this device immediately if requested by the FCC or a licensed wireless service provider.
WARNING. E911 location information may not be provided or may be inaccurate for calls served by using this device. Please note, the four largest carriers, namely, AT&T, T-Mobile, Verizon and Sprint, and more than 90 regional carriers have given a blanket consent to all boosters meeting the new certification standards.